Beauty is timeless and true
Inverni is the leader in the production of luxury cashmere caps and felt hats and is true to its aim of ensuring comfort, warmth and lightness of the highest quality.
Made in Italy
The Inverni family have been producing quality headwear since 1892. Respecting a long tradition, our minimal forms and accurate detailing transform luxury materials into chic and precious accessories to wear with poise.
History is a long long thread
Urban and unique, Inverni style is timeless.
Design
The Inverni design philosophy is inspired by the beauty of simplicity. The refinement of the most imperceptible of details allows us the freedom to produce minimal contemporary forms immediately recognizable to the connoisseur of style.
Timeless journey
"...the hat is our travel companion, in every place in the world and for every situation. Our fetish, our lucky charm, a piece of home which we keep close when on the move. I cannot remember ever travelling in my life without at least one hat. It would be admired by the friends I would meet, whatever the country, night or day, forever with me. Sometimes hidden so it couldn't be stolen, sometimes worn with pride to distinguish myself, sometimes to pass unoticed..."Francesco Bellotto
A Tuscan heart
Inverni accessories create the perfect touch of personal style. Crafted exclusively in the Tuscan heart of Made in Italy they are a luxury treasure to be savoured over time.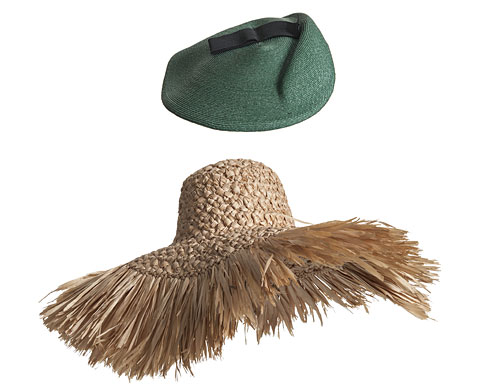 Heritage
The company preserves a precious collection of more than a thousand original patterns and hats made of extraordinary materials impossible to find today. Delicate, light straws woven and shaped then decorated with dazzling organza, velvets, handmade lace veils and rare feathers express the timeless beauty of natural elements. All the pieces of this collection are protected from sunlight and stored in the original trunks used by the family to show their designs throughout Europe.
Luxury and comfort
Garments at Inverni are made with a palette of sensuous natural materials and nuanced colors. Skilled master artisans enhance precious natural materials with elegant shapes to create accessories that pamper and protect.
Art craft
Each season this precious legacy is at the heart of the Inverni Collection. Inverni today is still dedicated to fine craftsmanship and design, made exclusively in Italy at the original firm, with natural fibers and fine wools. Each collection reflects the designer's search for materials and means to craft pieces that are warm, soft, light and fresh.